In Step with the Spirit (and Your Spouse) - Crosswalk Couples Devotional - June 27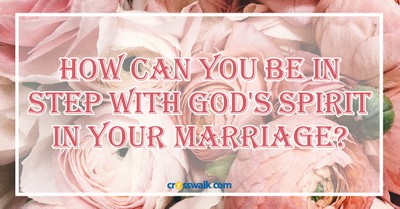 Crosswalk.com

In Step with the Spirit
By: Anne Peterson
If we live by the Spirit, let us also keep in step with the Spirit. - Galatians 5:25
I had just finished reading my Bible and wanted to reflect on the above verse. What did it mean to keep in step with the Spirit? Sharing with my husband, he decided to illustrate with something I could relate to.
"Remember when I was in the army and you came to see me at graduation in Oklahoma?"
I smiled remembering that day, so many years ago. Before we even became husband and wife.
"We had to learn how to march together. And the Sergeant explained we needed to keep in step. And the way to do that was to look at the person next to you. To make sure you weren't going ahead of them, or lagging behind."
I thought of myself and God's Holy Spirit. I have to be honest, there have been times I didn't agree with God's timing. Times when I felt he was just moving too slow. I wanted to run ahead and pull him up to me. There were other times that I just wanted to get behind and push him.
Keeping in step with the Spirit takes trust. Not that we have to figure out what God is doing; that's impossible. He tells us in Isaiah 55:8-9, that not only do we not think like God, but his ways are much higher than our ways. And yet, we still try to decipher what he's doing in our lives.
I thought about our marriage. There were times I've been impatient with Mike. Times I thought he should be doing things my way. And yet, I see that kind of thinking is arrogant, believing my way is right. The truth is, I don't know what God has in mind.
I smiled, remembering how the troops looked with everyone in sync. Like a dance where each movement is synchronized perfectly and everything looks effortless.
Pride is at work when we think our ways are better. I struggle with pride. Pride is behind impatience. It's behind ingratitude. I'm so thankful that when Jesus died for my sins, he died for all of them. Even pride.
I want to be in step with God's Spirit. And when I am aware of keeping in step with God's Spirit, it even makes things more harmonious in our home.
I thought back to God's many answers to our prayers. When our daughter, Jessica was born two weeks early weighing only 3 1/2 pounds. How we had to trust God while she was in the hospital for two months instead of our arms.
I think back to all the struggles we've had financially. How God provided faithfully in our lives over and over again.
God is immutable. He doesn't change. We could count on him years ago, and we can still count on him today.
How many times it felt like God was going to be late. Sometimes it felt like God liked coming through in that final hour. Maybe it's because by then we realized the only way things could work out is if it was God.
Whatever the reason, we grew in our faith and our marriage by learning what it looked like to pray, to wait and to trust, no matter how we felt. And in the waiting, God showed us how to be in step with his Spirit.
The God of the universe created everything we see. All of it. He created light out of darkness. He hung each star in the universe. That same God who made each minute detail, did it with precision. He himself did the work, and yet, it was perfect. Perfect.
And what does he ask of us? To trust him. To believe no matter what we go through, that he is bigger than our problems. He asks us to lean on him, instead of our own understanding. Trust is a privilege. We get to trust the everlasting Father with whatever comes our way. And then, we get to walk by faith and keep in step with his Spirit. And when we do, it's a beautiful dance and one that pleases the heart of God.
---
Anne Peterson and her husband, Michael have been married for 43 years. Anne is a poet, speaker, published author of 16 books, including her latest book, Always There:Finding God's Comfort Through Loss. Anne has also written and published another memoir, Broken: A story of abuse, survival, and hope. Sign up for anne's newsletter at www.annepeterson.com and receive a free eBook by clicking the tab. Or connect with her on Facebook.
You want a happy family who's growing closer to God and each other every day. But how do you break down the barriers to a loving marriage? How can you connect with your kids and help them in their struggles? How does your faith make a real difference in your family's life?
Rob and Joanna Teigen are here to support you with encouraging wisdom and honest interviews with overcomers who battled the same challenges you face. The Growing Home Together Podcast will give you hope and help to care for the soul of your family today.

You can listen to an episode now by clicking the play button below!