We Were Not Meant to be Glorified (John 3:29-30) - Your Daily Bible Verse - September 26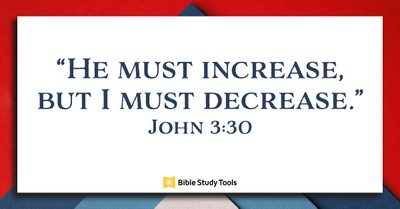 Crosswalk.com

We Were Not Meant to be Glorified (John 3:29-30)
By: Betsy St. Amant Haddox
Today's Bible Verse is: John 3:29-30 (ESV) "The one who has the bride is the bridegroom. The friend of the bridegroom, who stands and hears him, rejoices greatly at the bridegroom's voice. Therefore this joy of mine is now complete. He must increase, but I must decrease."
It's old news now—you turn on the news or open your social media account to discover yet another child star has gone off the deep end. Once bright, vibrant teen sensations on popular TV shows, now incredibly unhealthy adults with horrible self-esteem and shocking Instagram feeds, leaving behind a wake of bad relationships and rash decisions. When young adults peak in fame and popularity so young, there's nowhere to go but down.
It's not just the youth that fall prey to this type of spiral, though. None of us were meant for fame. The human heart wasn't intended to bear that burden. We were created with a deep, innate need to worship—not be worshipped. Everything in our life gets flipped over and upside down when we mix that up.
I have so much respect for the wisdom of Bible teachers and pastors who point to Christ and away from themselves, even as their book sales increase or their social media stats grow. They know the danger and pitfalls around them and are cautious to stay humble. It's a tricky balance at times—to teach, share, and help others grow, all while not letting a semblance of "fame" go to your own head.
Celebrities rise and fall. Tabloids crank out rumors of divorce, scandals, affairs, and other pieces of news that turn heads and spike sales. However true or false some of those headlines might be, we can tell from even a cursory, surface-level glimpse inside Hollywood that all is not well with their souls.
We were not meant for earthly glory.
True peace and fulfillment in our lives comes only from giving Christ glory. When He increases and we decrease is where we find trust rest for our souls. Our success as Christians is not related to how many followers we have, but how well we follow God. Our self-esteem comes not from multiple likes on a social media page, but from our degree of likeness to Christ. We were made in God's image, but we dare not steal His glory. It will crush us.
Today, if you're feeling the pressure of needing to collect more numbers, followers, likes, or clicks—take a step back. Whether the pressure is from a boss, a publisher, a leader, or simply the lies rattling inside your head demanding validation, just breathe. Redirect your focus to God. Inhale His glory and exhale your own stuffy, stale counterfeit version. True peace, success, and fulfillment comes when we lay down the sacrifice of self and worship Him alone.
---
Betsy St. Amant Haddox is the author of more than fifteen inspirational romance novels and novellas. She resides in north Louisiana with her hero of a hubby, two total-opposite young daughters, a vast collection of coffee mugs, and an impressive stash of Pickle chips. Betsy has a B.A. in Communications and a deep-rooted passion for seeing women restored in Christ. When she's not sweating it out at Camp Gladiator or trying to prove unicorns are real, Betsy can usually be found somewhere in the vicinity of a white-chocolate mocha—no whip. Look for her upcoming novel with Revell, Tacos for Two, in October. Visit her at http://www.betsystamant.com.
We want to experience God through the Bible… we really do!
But our good intentions fall flat when reading the Bible just doesn't seem to help us experience God in a real way. What should feel alive often feels confusing and boring and irrelevant. But it doesn't have to.
In the How to Study the Bible podcast, pastor and Bible teacher Nicole Unice brings life back to reading the Bible by walking listeners through her Alive Method of Bible study, helping us personally encounter God through his Word by giving us a practical, clear road map for understanding, interpreting and applying Scripture to our lives. Just click below to start listening now!