Faith takes center stage at "The Journey" premiere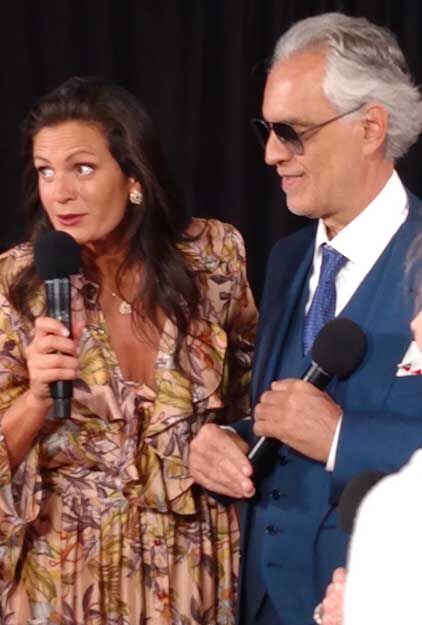 By John Hanlon
A number of top Christian singers were on hand for the New York City premiere of The Journey: A Music Special with Andrea Bocelli Thursday night. The premiere, which was held at the AMC Theater near Times Square, was attended by Bocelli himself and other stars of the film.
The film documents a 200-mile horseback ride in Italy that Bocelli and his wife Veronica took with their friends. On the trip, they are joined by Christian artists including Michael W. Smith and Tauren Wells, who talk openly about their faith and their own personal journeys.
In addition to discussions between Bocelli and his friends, the movie features performances by a variety of singers and artists including Bocelli, Smith, Wells, Tori Kelly and Taya.
On the red carpet, producer Tom Newman noted that the impetus for the film came from the Bocellis. He told Salem Media that Veronica Bocelli phoned him and said, "the world's been cooped up for two years. What are we gonna do? We've gotta open it back up. We've got to bring faith and hope and encouragement back to rule. How are we gonna do that?'"
Newman added that Veronica told him that her husband "read [that] one of his friends had ridden a horse all the way from Mulan to the Vatican and when he did that, he wrote his best piece of music." Newman noted that Andrea wanted to use the journey to both be "re-inspired" and "to to tell others about the goodness of God."
Faith, which plays an integral role in the feature, wasn't just an element of the onscreen voyage. On the red carpet, producer Kristian Kelly Bright (who helped develop some of the concepts in the movie) noted that her personal faith "was so enriched by spending time not only with Andrea but with the other artists."
Before the film began playing in the crowded theater, Bocelli spoke about that enrichment as well. He noted that he hopes the movie will help people "find a new hope and a deeper faith."
The Journey: A Music Special with Andrea Bocelli will be in theaters from April 2nd through April 6th. For more information, click here.