Watch "The Pilgrims" Now!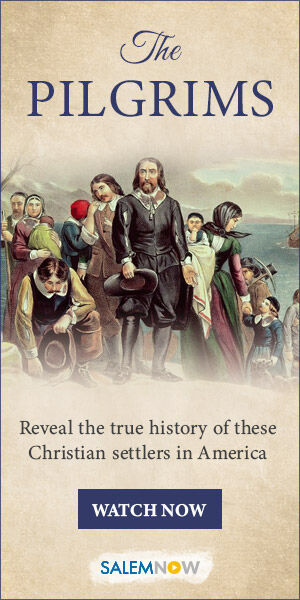 Start Streaming Christmas Favorites
Our Christmas film collection includes an eclectic mix of holiday films! Our collection includes a variety of films that families can enjoy together this wonderful season.
From the 12 Dogs of Christmas to Christmas Coupon to A Christmas Tree Miracle, there are plenty of films that can help you celebrate this blessed season.
Looking for more great movies from Salem Now? Click here.
PILGRIM STUFF
The Pilgrims
"The Pilgrims," says Dennis Prager, "created America for all intents and purposes." The recent war on history threatens to erase America's past. Even the Pilgrims are now portrayed as bloodthirsty imperialists bent on subjugating people. But that false and libelous picture is ridiculous and must be challenged. Just in time for the 400th anniversary of the first Thanksgiving, the newly released documentary THE PILGRIMS, sets the record straight. The Pilgrims, hailed by Movieguide as "inspiring", combats the lies to reveal the true history of these Christian settlers in America. Discover how they laid the groundwork for the liberty we still enjoy today.