Giving Up My Right to Be Right - Crosswalk Couples Devotional - August 16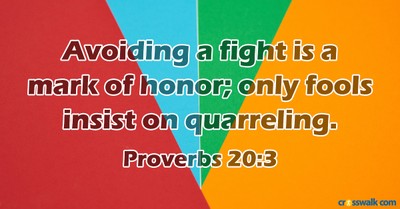 Crosswalk.com

Giving Up My Right to Be Right
By: Anne Peterson
Avoiding a fight is a mark of honor; only fools insist on quarreling. - Proverbs 20:3
Normally, I like Proverbs. I mean who doesn't want to be wise, right? It sure paid off for Solomon, big time. But there's something I like more than being wise: being right. Somehow, it doesn't sound so noble when you type it out.
Today as I read through Proverbs, I wondered how the word "honor" snuck in Proverbs 20:3. I was curious because years ago God showed me that I did not honor my spouse. It was a humbling lesson, to say the least. But when I read that h-word again in this verse, I stopped short.
God wants us to honor our spouses. Honor goes past respect. It's actually holding them in high esteem. And honestly, I'm all for that. But an indicator of honor means avoiding a fight? That hit a nerve. I mean, what if they are flat out wrong? Doesn't that even play into this?
And yet, as I read the verse very slowly, I felt my case for an argument evaporate. "Avoiding a fight is a mark of honor; only fools insist on quarreling."
I knew from a marriage workshop we attended early in our marriage that conflict leads to intimacy and of course, we all want intimacy. But this verse isn't talking about conflict. It's talking about arguing.
When we truly consider our spouse as more important than ourselves, conflict doesn't lead to arguments. And I'm convinced this is one of those things that God will work into our lives as we continue to walk with him. It's a byproduct of obedience.
Granted, we see many examples in Scripture where Godly people argue. Even with God himself! Now, offhand, I don't remember any of them winning those arguments, I merely want to point out that they have taken place.
All one has to do is remember Jesus and how there were times he didn't even respond, even though he was right. He opened not his mouth.
Honor. I think it's even in our wedding vows spoken before our families and friends, and also witnessed by God. We made a promise to our spouse, but being Christ-followers, we were also promising that to the Lord. I want to reflect the Lord. I want to grow in my relationship with Christ. The answer is clear. I can choose not to quarrel. I can give up my right to be right. I can become like Jesus. It says in Philippians 4:13, I can do all things through Christ who strengthens me, even giving up my right to be right.
---
Anne Peterson and her husband, Michael have been married for 43 years. Anne is a poet, speaker, published author of 16 books, including her latest book, Always There: Finding God's Comfort Through Loss. Anne has also written and published another memoir, Broken: A story of abuse, survival, and hope. Sign up for Anne's newsletter at www.annepeterson.com and receive a free eBook by clicking the tab. Or connect with her on Facebook.
It's time we get real about marriage & relationships! Join marriage coach, Dana Che, as she and her guests deliver witty, inspirational, real relationship talk from a faith-based perspective. New episodes of the Real Relationship Talk Podcast drop every Tuesday.